Multiagent & Cooperative Reasoning Laboratory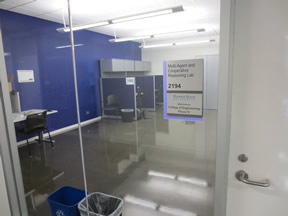 The goal of the Multiagent & Cooperative Reasoning Lab is to bring together researchers with various expertise to solve interesting problems in the area of distributed, intelligent, and self-adaptive systems. Application areas are varied and include adaptive network security, multiagent systems, cooperative robotics, sensor networks, and a wide variety of networked systems. Our research incorporates existing methodologies and techniques from other related disciplines -- including artificial intelligence, robotics, and software engineering -- into an integrated agent development methodology for distributed, self-adaptive systems. We are specifically interested in adaptive techniques applied to network and cyber physical systems security and operation.
Sponsor
This research has been sponsored by the Air Force Office of Scientific Research (AFOSR), the National Science Foundation (NSF), Intelligent Automation Inc., the US Marine Corp, M2 Technologies, and Stanfield Systems, Inc.
Address
Department of Computer Science
2194 Engineering Hall (DUE)
Manhattan, KS 66502-2302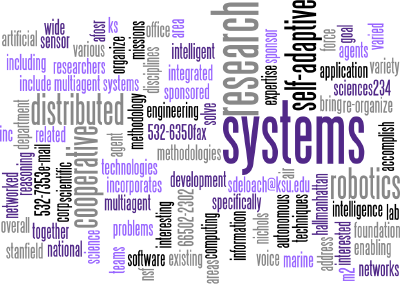 Voice: (785) 532-6350
Fax: (785) 532-7353
E-mail: sdeloach@ksu.edu